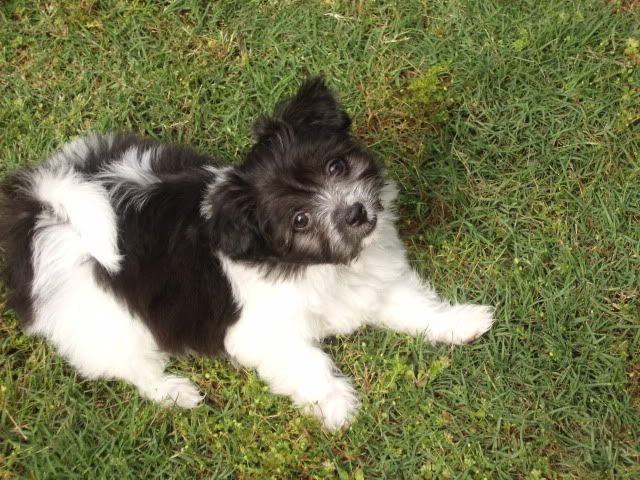 I finally have a new puppy, thanks to a surprise visit from my only sibling, sister Gail. She gave me that extra push I needed to find the right one, and then she made all the arrangements for me to get the puppy.
She is a "Shihchon", which is half Bichon Frise and half Shihtzu. They're called the Teddy Bear dog because they look like a little stuffed animal Teddy Bear!! She weighs 3 pounds! She's sooo cute it's ridiculous, she's unbelievably smart and she's a serious lover and snuggle bunny. Oh, and she hops like a bunny--it's hilarious!! She's non-allergenic, so she can be around anyone who normally has allergies to dogs!! She has no name yet because we're waiting for my husband, Moe to name her, because he has named all of our dogs!! I am totally in love with her and she is already healing my broken heart from when I lost my last dog, Gucci.
Most of you know I have been living with a seriously broken heart since last July 6, 2011 when we very unexpectedly lost our darling Brussels Griffon named Gucci, who was my 24/7 companion. And for a long time, I couldn't even think about "replacing" her. But when I was finally ready to start looking, it seemed like every time I thought I had found the one I wanted, something would go wrong and the deal would fall through. Even last Friday, I spent 4 hours at a huge Pet Expo/Pet Adoption Event where every rescue group from southern CA had all their adoptable dogs. I looked at hundreds of dogs & finally found one I was very interested in, spent about 30 minutes with her, started to fall in love & then the main person of the rescue group she belonged to came back from lunch & informed myself & the volunteer who was helping me that she had already been adopted 20 minutes before I got there!!! Yikes!! So this is the kind of thing that kept happening to me & honestly, I was beginning to wonder if I would EVER find the right dog for me.
But when one of these doggie deals wouldn't work out over the past couple months, some very wise friends of mine kept telling me it was OK because whatever dog I just missed out on was NOT supposed to be my dog and I would find the right one when the time was right. Well, they were sooooo right!!!
It's been about eleven years since we had a tiny puppy in this house and you sort of forget that it really is like having a little baby in the house, LOL!!! Let's just say that I've had even less sleep than usual, which isn't a good thing, but I know it won't be like this forever! But she is sooo worth it!!!!
So if you email or call me and if I don't get back to you immediately, it will be because I'm probably trapped with a sleeping puppy curled up on my chest, with her little face snuggled up against mine, with the scent of her little puppy breath wafting across me--(way better than any designer perfume IMHO!)!! My philosophy is to never bother a sleeping puppy!! Just give me a couple days for us to get situated and get her acclimated to life here in our home!! Oh who am I kidding--just give me a couple days to just snuggle her and love her, LOL!! TIA!!!